3-day mini cruise to Le Havre on board Anthem of the Seas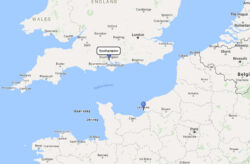 Cruising from: Southampton, UK;
Departure Date: May 10, 2024;
Duration: 3-day cruise;
Cruise Line: Royal Caribbean;
Cruise Ship: Anthem of the Seas;
Ports of Call: Southampton, Le Havre, Southampton;
Discover the best of France on this Autumn cruise with Royal Caribbean
Day 0

Your 1st port of call – Southampton. Known as the cruise capital of Europe, Southampton plays host to over four million visitors a year and boasts an impressive cultural offering, from museums, music venues and art galleries, to award winning[...]
Day 1 – At Sea cruising
There are plenty of daily activities on board Royal Caribbean to keep you busy. Anthem of the Seas has everything a discerning cruiser could want, bars, sports venues and shops.
Day 2

Le Havre Port tourist information. Considering it was bombarded 146 times during WW2, you might think there'd be little left to see in Le Havre – France's second-largest port (after Marseille). The rebuilt city, with its uncompromising recourse to reinforced concrete and open[...]
Day 3

Things to Do in Southampton. Visit Southampton: Attractions, Activtities, Arts, Shopping, Walks, Tours and Sports. Southampton plays host to a spectacular range of events each year, from large national and international one-off events to smaller community events. The city plays[...]
---
Join Royal Caribbean on this Autumn Escape cruise from Southampton to Le Havre on board Royal Caribbean' Anthem of the Seas. Anthem of the Seas leaving Southampton, UK for 3 nights from May 10, 2024.