10-day cruise to Santander, Vigo, Lisbon, Porto & St. Peter Port with P&O Cruises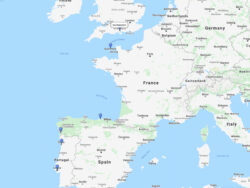 Cruising from: Southampton, UK;
Departure Date: August 19, 2023;
Cruise Line: P&O Cruises;
Cruise Ship: Ventura;
Duration: 10-day cruise;
Cruise number: N323;
Ports of Call: Southampton, Santander, Vigo, Lisbon, Porto, St. Peter Port, Southampton;
Discover the best of Spain, Portugal and Guernsey with P&O Ventura
Day 0

Day 1 – At Sea cruising
There are plenty of daily activities on board P&O's Ventura to keep you busy. P&O's Ventura has everything a discerning cruiser could want, bars, sports venues and shops.
Day 2

Day 3 – At Sea cruising
Experience the relaxed ambience onboard P&O's Ventura attentive service from a friendly staff that knows what hospitality means, you'll find your P&O's Ventura ship truly is your home away from home.
Day 4

Day 5

Day 6

Day 7

Day 8 – At Sea cruising
Whether you like to indulge in food, sport, games or education, there are tons of cruise activities aboard every P&O cruise ship.
Day 9

Day 10

---
Join P&O Cruises on this roundtrip Guernsey, Spain and Portugal cruise from the Port of Southampton to Santander, Vigo, Lisbon, Porto and St. Peter Port on board P&O's Ventura. Ventura leaving Southampton, UK for 10 nights from August 19, 2023.