16-day cruise to La Coruna, Madeira, La Palma, Tenerife, Gran Canaria, Lanzarote & Cadiz with P&O Cruises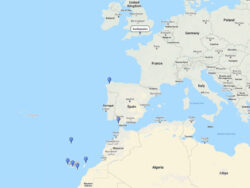 Cruising from: Southampton, UK;
Departure Date: March 27, 2022;
Cruise Line: P&O Cruises;
Cruise Ship: Arcadia;
Duration: 16-day cruise;
Cruise number: J204;
Ports of Call: Southampton, La Coruna, Madeira, La Palma, Tenerife, Gran Canaria, Lanzarote, Cadiz, Southampton;
Discover the best of Canary Islands aboard P&O Arcadia
Day 0

Day 1 – At Sea cruising
Whether you like to indulge in food, sport, games or education, there are tons of cruise activities aboard every P&O ship.
Day 2

Day 3 – At Sea cruising
Discover exciting new entertainment offerings – lively music, stunning choreography, and beautiful venues that make Arcadia' onboard entertainment among the best at sea.
Day 4 – At Sea cruising
There are plenty of daily activities on board Arcadia to keep you busy. Arcadia has everything a discerning cruiser could want, bars, sports venues and shops.
Day 5

Day 6

Day 7

Day 8

Day 9

Day 10

Day 11 – At Sea cruising
Experience the relaxed ambience onboard Arcadia attentive service from a friendly staff that knows what hospitality means, you'll find your Arcadia ship truly is your home away from home.
Day 12

Day 13 – At Sea cruising
Each cruise line has their own unique way to pamper you and indulge your senses. There is always something to do onboard P&O' cruise ship.
Day 14 – At Sea cruising
Entertainment on Arcadia will feature more to do onboard, with more time to do it.
Day 15 – At Sea cruising
Cruising aboard Arcadia elevates fun at sea to an art form. Arcadia demonstrates a true mastery of the craft with an onboard collage of fun entertainment for you to enjoy.
Day 16

---
Join P&O Cruises on this 16-day roundtrip Canary Islands cruise from Southampton to La Coruna, Madeira, La Palma, Tenerife, Gran Canaria, Lanzarote and Cadiz on board P&O's Arcadia. Arcadia leaving Southampton, UK for 16 nights from March 27, 2022.