12-day cruise to Lisbon, Madeira, Gran Canaria, Tenerife, Lanzerote & Vigo with MSC Cruises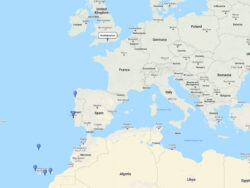 Cruising from: Southampton, UK;
Departure Date: May 1, 2022;
Cruise Line: MSC Cruises;
Cruise Ship: MSC Magnifica;
Duration: 12-day cruise;
Ports of Call: Southampton, Lisbon, Madeira, Gran Canaria, Tenerife, Lanzerote, Vigo, Southampton;
Discover the best of Madeira, Canary Islands and Lisbon aboard MSC Magnifica
Day 0

Day 1 – At Sea cruising
There are plenty of daily activities on board MSC Magnifica to keep you busy. MSC Magnifica has everything a discerning cruiser could want, bars, sports venues and shops.
Day 2 – At Sea cruising
Discover exciting new entertainment offerings – lively music, stunning choreography, and beautiful venues that make MSC Magnifica' onboard entertainment among the best at sea.
Day 3

Day 4 – At Sea cruising
Each cruise line has their own unique way to pamper you and indulge your senses. There is always something to do onboard MSC cruise ship.
Day 5

Day 6

Day 7

Day 8

Day 9 – At Sea cruising
Whether you like to indulge in food, sport, games or education, there are tons of cruise activities aboard every MSC cruise ship.
Day 10

Day 11 – At Sea cruising
Experience the relaxed ambience onboard MSC Magnifica attentive service from a friendly staff that knows what hospitality means, you'll find your MSC Magnifica ship truly is your home away from home.
Day 12

---
Join MSC Cruises on this roundtrip Canary Islands and Portugal cruise from Southampton to Lisbon, Madeira, Gran Canaria, Tenerife, Lanzerote and Vigo on board MSC Magnifica. MSC Magnifica leaving Southampton, UK for 12 nights from May 1, 2022.