7-day cruise to St. Peter Port, La Rochelle, Bilbao & La Coruna with Princess Cruises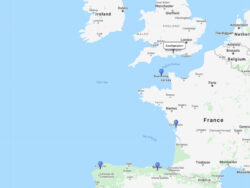 Cruising from: Southampton, UK;
Departure Date: November 8, 2021;
Duration: 7-day cruise;
Cruise Line: Princess Cruises;
Cruise Ship: Grand Princess;
Ports of Call: Southampton, St. Peter Port, La Rochelle, Bilbao, La Coruna, Southampton;
Discover the best of Spain & France with Grand Princess
Day 0

Day 1 – At Sea cruising
Each cruise line has their own unique way to pamper you and indulge your senses. There is always something to do onboard Grand Princess cruise ship.
Day 2

Day 3

Day 4

Day 5

Day 6 – At Sea cruising
There are plenty of daily activities on board Grand Princess to keep you busy. Grand Princess has everything a discerning cruiser could want, bars, sports venues and shops.
Day 7

---
Join Princess Cruises on this roundtrip Spain and France Cruise from Southampton on board Grand Princess. Discover best of St. Peter Port, La Rochelle, Bilbao and La Coruna. Grand Princess leaving Southampton, UK for 7 days from November 8, 2021.